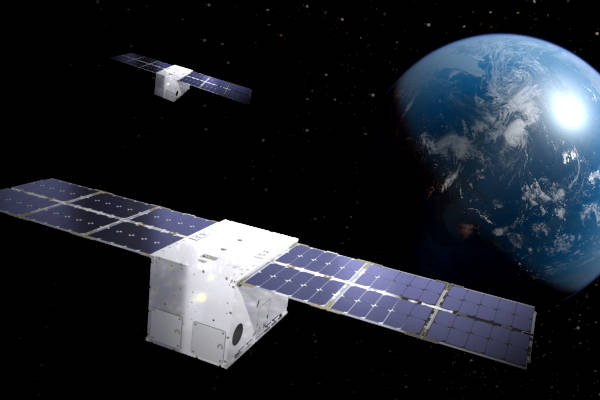 "Space is a dynamic domain and our customers are demanding the ability to upgrade spacecraft on orbit – to provide greater capabilities and more mission flexibility," said Lockheed Martin v-p Chris Crawford. "Linuss will be the first step flight-qualifying this technology. The ultimate near-term goal is supporting upgradeable LM 2100 satellite bus platforms, starting with GPS IIIF Space Vehicle 13."
LM 2100 is a series of satellite 'busses' – the assembled chassis, solar panels and other component necessary for space orbit, ready to carry a payload.
Based on the earlier A2100 bus, LM 2100 was announced in 2017 to run alongside a family of smaller satellite busses all sharing common components to keeps costs down.
Ready for launch later this year, Linuss consists of two satellites built around the smallest bus in the family, the LM 50 series – which can range from 1U to half ESPA in body size, 1 – 150kg in weight, 2 – 250W in power and three months to five years in mission duration.
In this case they are a pair of 12U busses, around 200 x 200 x 300mm, and according to Lockheed "are the collaborative integration of the company's mission electro-optical payload deck with a 12U bus from Tyvak Nano-Satellite Systems" and "will be two of the most capable cubesats in geosynchronous earth orbit".
Amongst its demonstration, Linuss is intended to show a flight computer from Innoflight, a propulsion unit from Vacco and Lockheed capabilities including an inertial measurement unit, machine vision, 3D printed constriction and on-orbit software upgrade.
"Given we are well known for our systems integration work on large satellite systems, some people are surprised to learn Lockheed Martin has launched over 150 small satellites since 1997," said Linuss programme manager David Barnhart. "Linuss has higher bus density, payload accommodation, and on-orbit processing than any other CubeSat."